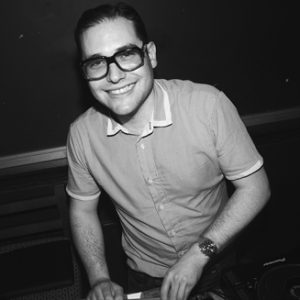 DJ Dan
DJ Dan is the creator of Propaganda, having started the club night when he was only 20. He was also Oasis' aftershow DJ and has continued to DJ for Noel Gallagher and played aftershow parties for The Stone Roses and The Prodigy. He has DJed around the world including across Europe and in Australia, America, Brazil and Malaysia. He has played at some of the biggest festivals globally including at Glastonbury, Big Day Out, V Festival, Reading & Leeds Festival, Bestival and Benicassim.
What got you into DJing?
I previously played drums in a band and fell into DJing when I was 19 and launched Propaganda a year later while I was a student at Bristol University, at that time I never thought I'd be a full time DJ and I still can't quite believe I am!
Favourite Artist?
Since I was about 15 Oasis were always my favourite artist and they still are, it was such a real dream come true and honour to become Oasis' aftershow DJ and continue DJing for Noel Gallagher.
Best Ice Cream Flavour?
I am a bit of an ice cream addict, my freezer is always full of Ben & Jerry's. Peanut Butter Cup is my current favourite.
Favourite Propaganda Moment?
I've had so many highlights, however closing The Reading Festival and DJing to around 10,000 people on the Sunday night has got to be one of my favourite moments. DJing at Glastonbury was also really special. I toured across Australia with the Big Day Out Festival with Urby from Propaganda Australia, which was probably the best couple of weeks of my life. At the club Propaganda is always full of surprises and having James Corden play an impromptu DJ set at Propaganda Birmingham was another real highlight.
Favourite item of clothing?
I do like to DJ in a good blazer or jacket.
Favourite Propaganda?
Each Propaganda is like my own child, so it would be wrong for me to have a favourite.
Standard Post Gig Food?
A few of our cities have curry houses open until 4am which is the best way to finish a night, otherwise I love a good Filet O'Fish.
Top 5 Albums?
Oasis – The Masterplan
The Beatles – Sgt. Pepper's Lonely Hearts Club Band
Radiohead – The Bends
Two Door Cinema Club – Tourist History
Ben Howard – Every Kingdom
Top 5 Floorfillers?
Bastille – Pompei
Mumford & Sons – Little Lion Man
Arctic Monkeys – Do I Wanna Know
Oasis – Don't Look Back In Anger
The Killers – Mr Brightside
Dream Guest DJ to DJ with at Propaganda?
I've already DJed alongside Mumford & Sons, Two Door Cinema Club, The Vaccines, Mark Ronson, James Corden, Nick Grimshaw, Greg James, Ellie Goulding, Lily Allen, Zane Lowe, Vampire Weekend, The Libertines, Bloc Party, David Hasselhoff, Huw Stephens, Frank Turner, The Fratellis and The Pigeon Detectives I'm quite content with that list!
How would you like to be Rememebered?
As the person who created the biggest rock n'roll party ever and the best night out.
What do want to be when you grow up?
A DJ
Twitter:
@DJDanPropaganda
Instagram:
djdan Facebook: DJ Dan