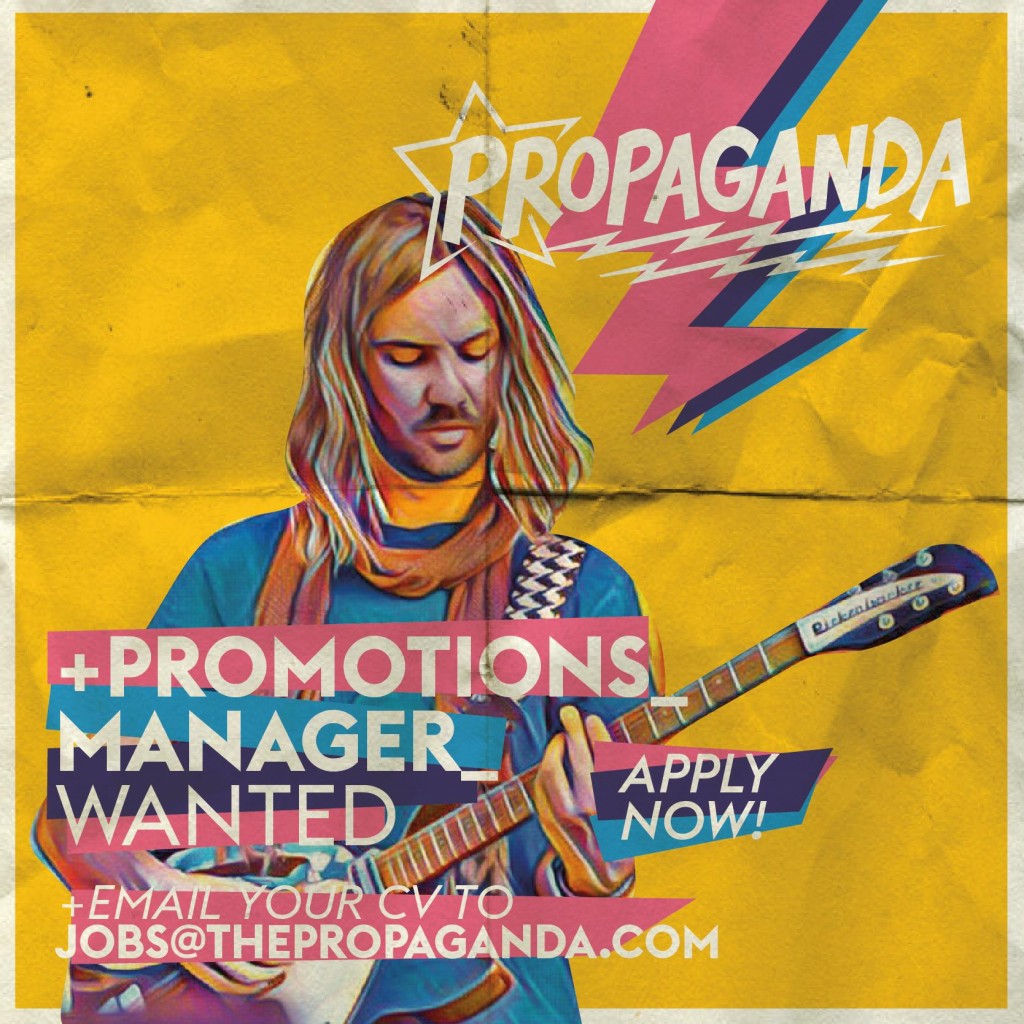 Propaganda City Manager Opportunities
Stuck in a desk job or graduating from uni with no idea what to do next? Dreaming of a job where you get to work with like-minded people and where fun nights out are compulsory? Then you've come to the right place!
Here at Propaganda we host the biggest parties on the planet with 25,000 people attending every week in the UK, Australia and Brazil. With guest DJs and live bands like Mumford & Sons, Busted, Greg James, Bastille and many more regularly gracing the stage at Propaganda, there's job satisfaction guaranteed.
Each year Propaganda looks to recruit some talented new city managers in existing and brand new locations. The city manager is responsible for promoting Propaganda on the ground and online in their allocated city as well as managing the event on the night and managing their local street team. This year, as part of the recruitment process, we are holding a series of summer internships.
The summer internship will involve 1-2 days in our head office in Bristol, and the rest of the week spent shadowing one of our existing city managers. You'll get a complete overview of how the company operates and what is involved in marketing and managing some of the biggest events in the UK.
If you think this sounds like the job for you then please fill our application form now and you will hear back soon.
DEADLINE: FRIDAY 13TH JULY
Online Ticket Reps
Make Money from the comfort of your own home in 4 easy steps: *Register with www.fatsoma.com *Search for 'Propaganda' and you will see a list of our events across the UK *Pick the event you would like to sell tickets for and the system will generate a unique link for you to the ticket selling section of our website *Publicise this link (e.g. a facebook event/update, tweet, email etc) and for everyone who buys a ticket through your link you will earn 50p commission! Easy money!
DJ For Propaganda
If you're interested in joining Propaganda's team of DJs, previous public DJ experience and enthusiasm for our music is a necessity. If you think you have what it takes please e-mail djs@thepropaganda.co.uk and include which room you think your music would suit along with your previous DJing experience and a link to download a mixtape.
Other Positions Available
We are always looking for people to join Propaganda's team. We have a number of paid positions available including… * Promotional Staff * Propaganda Staff at the club night (not bar staff, that's done by the club venues!) * University Hall & College Reps We have many promotional/flyering opportunities so we have created a special street team and mailing list for those who are interested in taking part! Unlike many other street teams….All Work is PAID! * If you are flyering at a club you will be given guest list! * You will also have the opportunity to request free entry to gigs! * You can do as little or as much work as you like! For more information and to join the Propaganda street team please complete the form below and we will be in contact regarding your application.